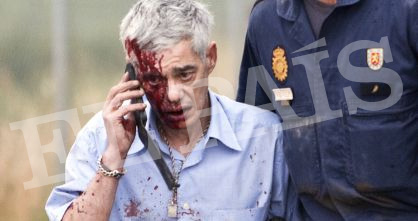 It is notorious that Roman law, which is used in Spain, is completely different from English common law; as a consequence the terminology is different and cannot be translated. English reports of continental legal systems refer, for example, to the Court of First Instance or the Court of Cassation, these being institutions that simply do not exist in the English conception of how the law works.
So when the BBC reports:
The driver of a train that derailed on Wednesday killing 78 people has been formally detained, Spanish police say. The driver, who was injured and is under guard in hospital, is accused of "crimes related to the accident", they say.
it is not that it is wrong but that a little clarification may be necessary. A British or American reader might assume that he has been charged with a general offence (crimes related to the accident), which is contrary to legal propriety. What is happening though, is that in the Spanish system a judge investigates anything that looks as if it might involve criminal activity (in this case crimes related to the accident) to determine whether that is in fact the case. This phase is called instruction and a person who is under investigation has the status of imputado. In the case of this train accident it might be said, if this is not splitting hairs, that the driver has had the blame for the accident attributed to him but has not been formally charged with causing it. Examination will show whether this is justifiable, and as excessive speed was clearly the immediate cause of the accident, and as the driver has admitted that he knew that he was going too fast, making him imputado is inevitable. If in the opinion of the examining judge the accident was the driver's fault, he will then be charged specifically with 80 cases of manslaughter (homicidio imprudente) and 130 cases of injury (lesiones), or whatever the final figures may be. At that point he will become an acusado. If he were found guilty, he would not only go to prison but would be personally liable for compensation to the victims.
This, however, is theoretical and the situation is of course far more complicated than that because the company that owns and runs the trains (Renfe) and the company that owns and manages the track (Adif) will certainly be involved. The nature and functioning of the warning systems, as well as the state of the train and of the track, will have to be investigated thoroughly.
Note: I have some knowledge of English and Spanish law but am not a lawyer. This post is written in an attempt to explain the terminology and avoid confusion. Any comment or correction from someone who knows better than I do will be welcome.